#CIPD15 Act Like a Leader, Think Like a Leader
I'm running out of blogging energy, so this may be short.
Herminia Ibarra
starts off with "What got you here, won't get you there" and some personal stories about the challenge of the well intended "Can I give you a little feedback"
The advice she got to win over the MBA students
Make the pit your own, Be a dog, Mark your territory, Do your business in each corner of the room. Touch them, but don't make hay. Make it clear no-one is out of your reach. If your hungry and they've got food, take it.
It was not comfortable but it had a huge impact. Increase outsight (the opposite of introspection) external knowledge and experiences change what we thing, what we value, what we are capable of!
The key point is
"Change what you do to change what you think"
We often know what we need to do differently but we cant change the behaviour.
1, Redefine your job
How do you spend your time – doing stuff yourself, getting others to do for you, strategising, developing people/coaching. We spend most time doing and not enough strategising.
Competency trap – we get so good at something that then defines (and limits) us. Cost of developing a new skill it is high
2, Hubs and bridges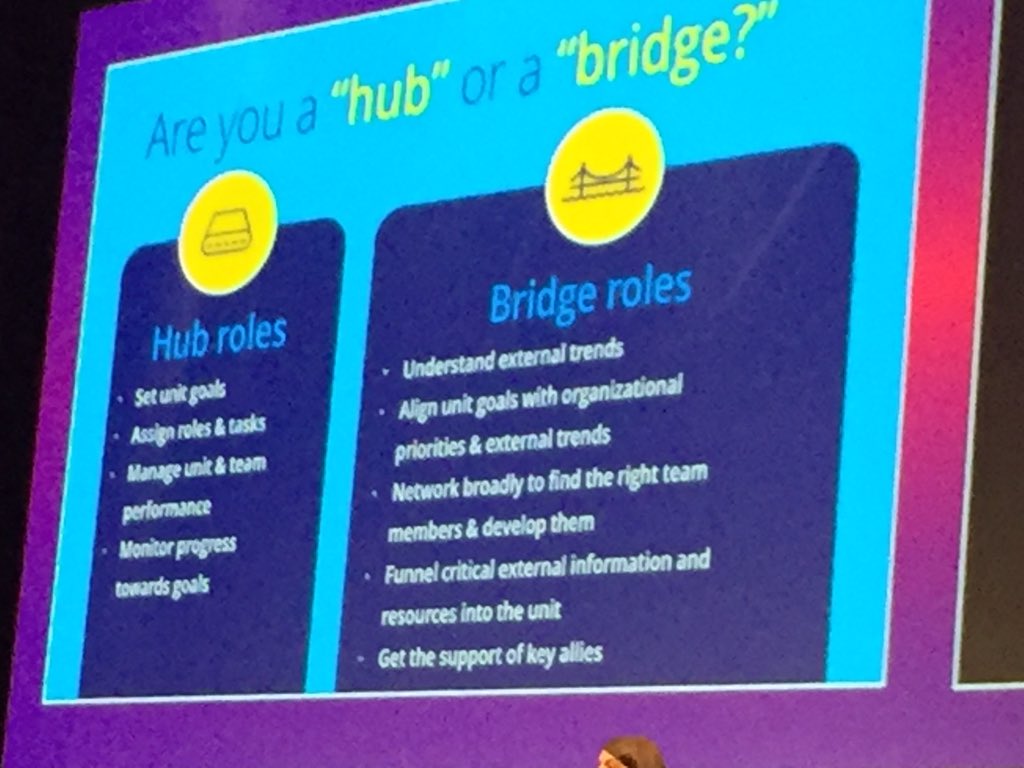 pic credit Lesley Louise
3, Network
We are narsassistic and lazy and so are our networks. So how can we get the spread we need?
Find strength in your weak ties.
People who are on twitter have more innovative ideas but the twitter ninjas are the ones who follow people who don't follow each other.
Diversify your networks
4, Be more playful with yourself
Transitioning into a leadership role can make you feel very inauthentic.
Can authenticity be "being what I will become" not just what I am today
Steal like an artist
---
Live blogged at the end of 2 days live blogging at #cipd15, I'd be suprised if this makes any sense at all. Sorry.